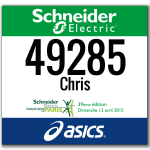 Hi everyone.  Two weeks from today on April 12, 2015 I will be running the Marathon De Paris for the European leg of my Run Over MLD  7 marathons on 7 continents challenge.  Since running the Tokyo Marathon on February 22, I have been busy with my job and MBA studies, so I have not been able to blog much.  Additionally, on my first training run back home in Sydney, I started to get a bit of tightness in my leg that has caused me a bit of concern.  Usually I run 4 times a week, but I have cut it back to 2-3 times a week help heal things up.  I am now in "taper" time before a marathon which is the period a few weeks before that runners cut back on the long runs.  Hopefully this will help to give my legs some rest.  Last weekend was my final "long" run which consisted of a 20 mile(32km) trot that went well despite the leg trouble.  Today I did a "short", but fast paced 9 miles(14.5km) and I will sneak in another 5 miles(8km) before we fly out on Wednesday for Europe.
We are headed to Europe a week before the race to get acclimated to the timezone.  Our path will take us first to Singapore for a day so I can finish some business and then to the Netherlands and Belgium for a few days before arriving in Paris on April 9th.  I hope to get some final training runs in Amsterdam and Antwerp and will post pictures when I can.  April 11th will see Jamie and I participate in the Paris "Breakfast Run" which is a 5km run/walk that culminates in a french breakfast of croissants, pan chocolates, coffee, and juices.  Jamie doesn't care much for running races, but was sold on the french pastry aspect of this event.  My bib number for the Marathon De Paris is 42985 and I will post tracking details closer to the day.
Our sweet niece Cori Sue has had rough month as the little trooper had to head into the hospital for some treatment.  She had some high fevers, spasms, congestion, and needed oxygen.  Thankfully she is back home now, but unfortunately has a fever again.  Jamie and I have been trying to have some FaceTime chats with Cori so our bunny Frankie can entertain her.  Frankie always seems to cheer sweet Cori Sue up.  No matter how hard the running in this challenge gets, the thought of Cori and how tough she is keeps me going.  In the Tokyo race when I started to get a bit fatigued, I just kept her cute smile in my head and it helped me avoid hitting the wall.
Please make a donation to my challenge if you have not done so already.  The MLD Foundation is a great organization that helps family's like Cori's and promotes research into finding a treatment for this disease.
Au revoir for now!
Chris